My Journey Starts ….
Australia is a land of dreams. From the sacred legends of the aboriginal Dreamtime, when the great spirits conjured the coral reefs, rainforests, and scorched red deserts, to armchair travelers who describe Australia as their
dream destination, the Land Down Under deserves all the hype. The world's smallest continent and largest island, Australia is almost the same size as the United States but with a population the size of New York State and some of the quirkiest wildlife on the planet.
Australia is also a land of staggering contrasts and spectacular beauty. Along the coast, you can explore vibrant multicultural cities, vast sand islands, ancient rainforests, and one of the planet's most awe-inspiring natural wonders – the Great Barrier Reef. In the Outback, rugged national parks and red-earthed deserts offer the ultimate in adventure travel. Top it all off with a laid-back feel and friendly people, and it's no wonder Australia scores top billing on bucket lists around the world. Create your own adventure with our list of the top attractions in Australia:
1 Sydney Opera House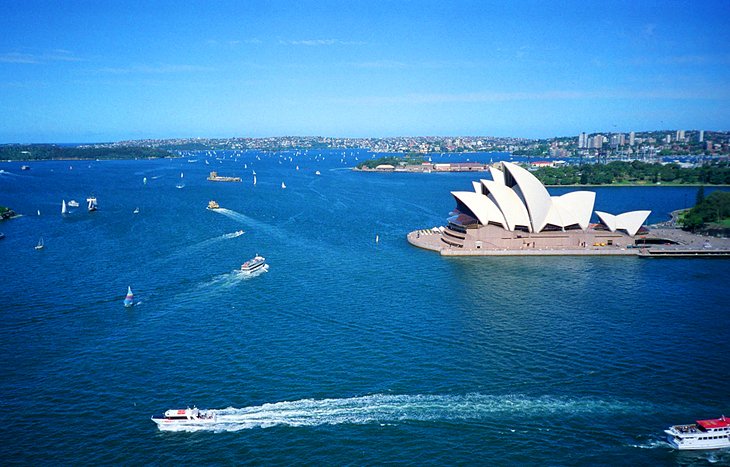 Mention "Sydney, Australia" and most people think of the Opera House. Shaped like huge shells or billowing sails, this famous building on Sydney's Bennelong Point graces the list of UNESCO World Heritage Sites and is one of the world's great architectural icons. The location is stunning. Water surrounds the structure on three sides, and the Royal Botanic Gardens border it to the south.
Danish architect, Jørn Utzon won an international competition for its design but withdrew from the project after technical and financing problems. Construction was finally completed in 1973 at a cost ten times the original budget. By this time, Utzon had left the country never returning to see his magnificent creation.
Today, you can enjoy a performance here; dine at one of the restaurants; or take a tour of the building, which encompasses theaters, studios, a concert hall, exhibition rooms, and a cinema. But it's far more impressive viewed from a distance. One of the best sites to photograph the Opera House is Mrs Macquarie's Chair in the Royal Botanic Gardens, or you can hop aboard a harbor cruise or ferry for yet another picturesque perspective.